[wc_heading type="h2″ title="Ever wondered how artists and illustrators come up with original ideas for their illustrations?Learn how to create a red panda illustration using watercolors by following this simple and easy to follow tutorial." text_align="center"]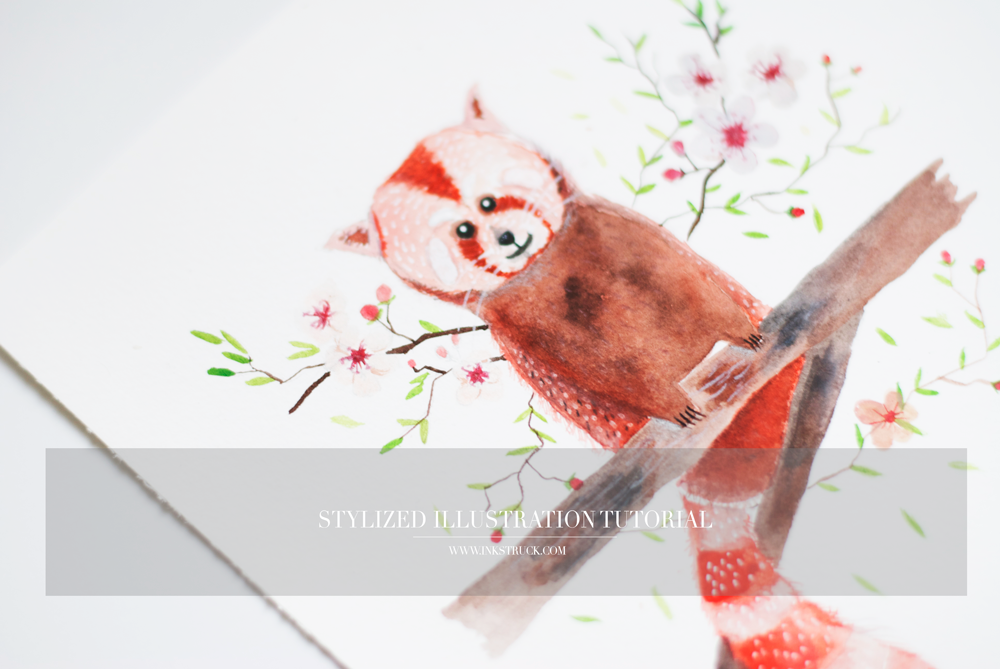 Hello lovely readers. I know its been quite a while and I've been totally neglecting my blog which should not be happening. But I've been super busy with a collaborative project the entire month of November and I'm so excited about it. It's a 2015 Calendar and all the details will be explained at the end of this post. About the tutorial, I'm going to show you how to do a stylized animal illustration and on how you can create scenes. So let's get on with it and hope you enjoy.
Step 1: After creating a basic idea on my sketchbook, I then transfer my image on to the drawing paper. Here I've used hot pressed watercolor paper which is great for creating details. It's smoother than cold pressed paper and can be used to create the tiniest of details. In the image below, you won't be able to see the line work as it's super light. The animal I did was red panda, so I mixed in some red with a bit of yellow to form a dark bright shade of orange with which is start making tiny strokes for the fur.
Step 2:Continue adding in the fur details, layering and overlapping over each other two that it forms a cluster.I then blended in the orange with the rest of the face leaves the areas that need to be white. You can see below that the line work is a bit more visible.
Step 3: I then continue adding a thin layer of orange around the face, keeping the centre of the forehead and the fur beneath the eyes darker. Once that's done, I start filling in a base coat of brownish orange on to the body. While the color is still wet, I add a shade of darker orange-brown using the wet on wet technique. You can see that I've taken a photograph just as the paint in wet for you to have a better in the 2nd image below.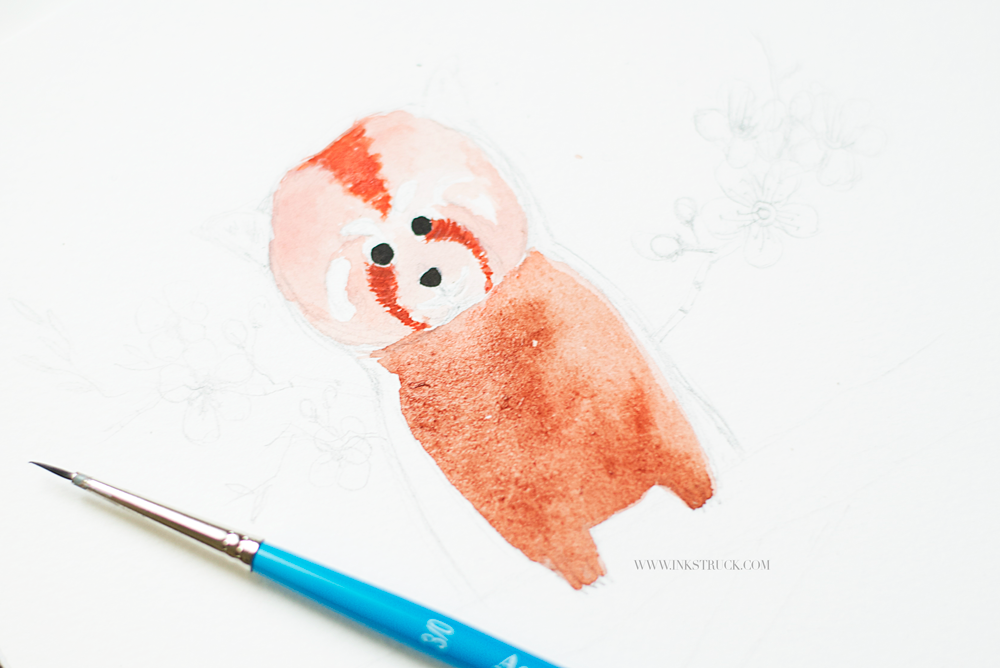 Step 4: I then start adding in the details of fur on the ears and the sides of the faces keeping the orange hue as the base. I also start filling in the color on the body behind with a slightly more pronounced orange than the front because this animal has a orange shade of fur on the outside and a darker tone on the underside. While waiting for the paint to dry, I decided it was the perfect time to do my cherry blossom simultaneously. Whenever I start doing a stylized illustration, I think about what goes well with the animal. Should I do a fruit or a flower or just regular leaves? It does not need to make sense , you can mix and match anything. So here, I thought why not add some cherry blossom branches behind this sweet little guy. You can add berries or peonies or carnations or anything you can think of . All it needs to have is a bit of uniformity and that the whole image looks cohesive. So I start adding pale pink on the cherry blossom flowers.
Step 5: Now let's look a bit closer on to the tail. Red pandas have these fluffy and oh-so cuddly tails and they have this beautiful alternating pattern which makes it even more adorable. I start first by adding a slightly pale orange pink as a base layer for the lighter areas of the tail. Once I block in the color,  I go on to adding the brighter orange on to the other areas. Since this is a stylized illustration, I add a fur like pattern on to the tail with white. As it is fur, and it's fluffy, I painted random fur patterns on the sides of the tail and in the read where one segment meets the other. You can see this clearly in the 2nd image below.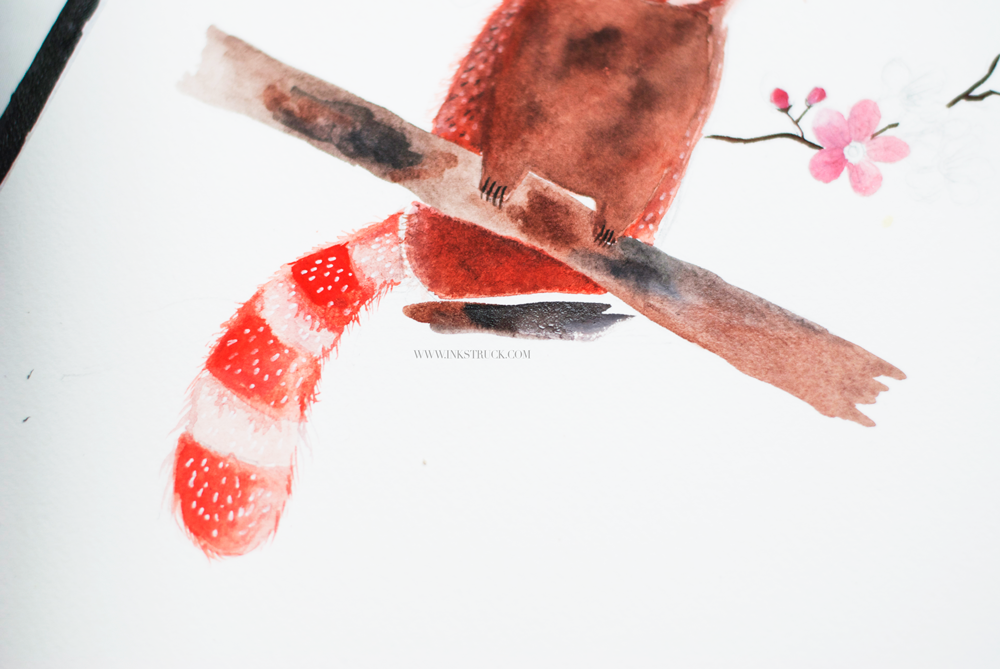 Step 6: After carefully blocking in an almost white shade of pink on the cherry blossom flowers, I paint the leaves and branches. Then using my Faber Castell polychromos color pencil in the color  Magenta, I start adding the details of the centre part of the cherry blossom flower. I also did the branch on which the panda is perched upon by using the wet on wet technique. Similarly, I continue with the details of the flowers on the other side of the panda as well.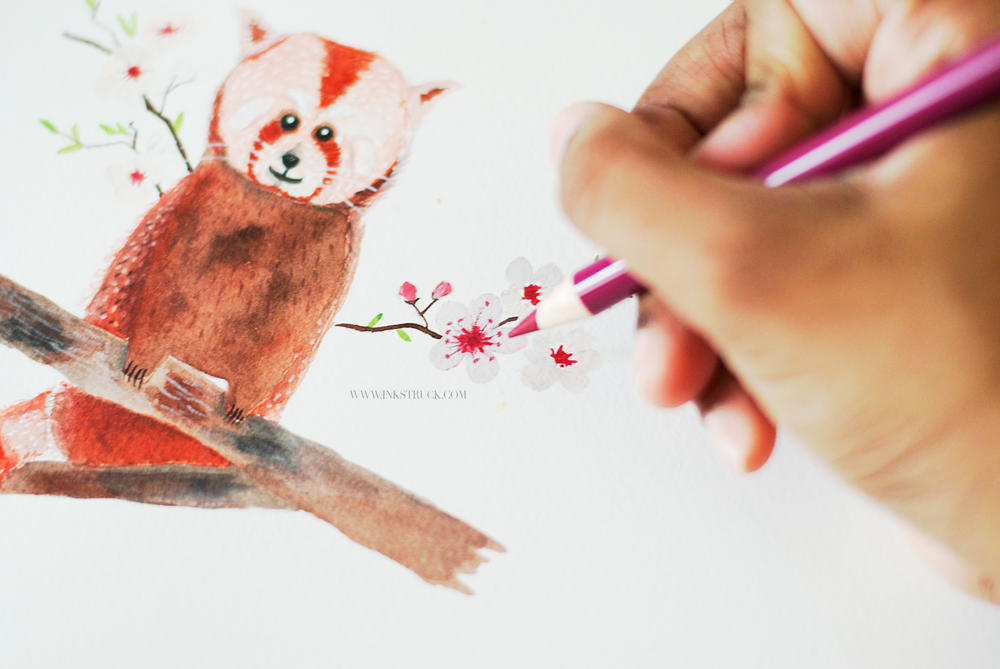 Step 7: After I looked at the illustration, I felt it needed a few more branches and leaves so that it does not look empty. So as an afterthought, I added the different branches and falling leaves to create a more cohesive painting. So now all you need to do is follow your instincts and start creating some awesome stylized illustrations!
Listed below are the materials I've used for this particular illustration. Please excuse the messy palettes . 😀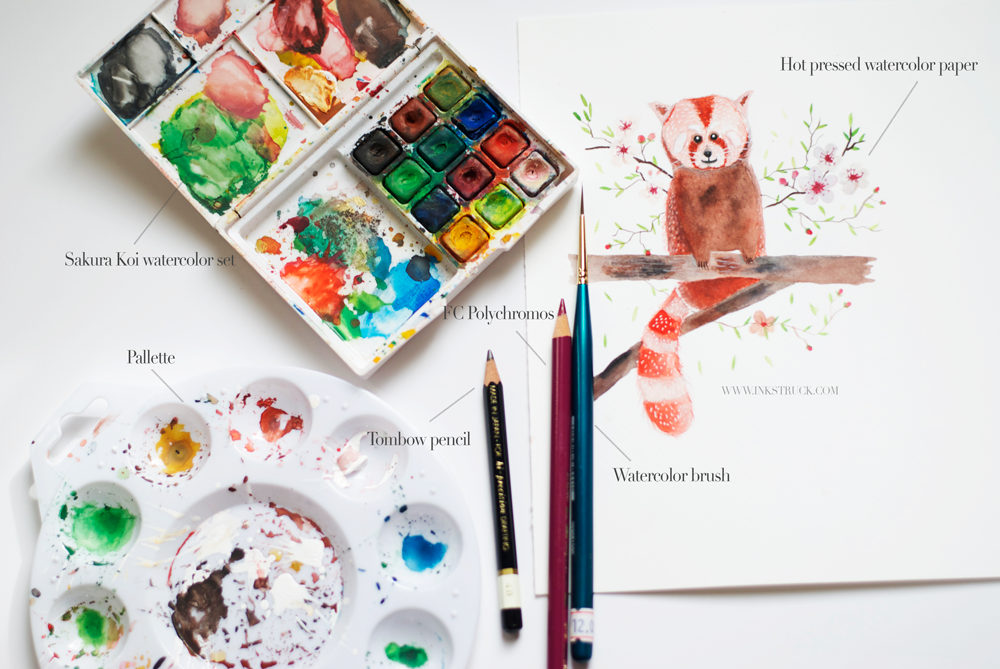 This particular illustration was created as part of a collaborative project Inkstruck Studio had teamed up to with Lindsey Bugbee of The Postman's Knock. Lindsey is a talented calligraphy artist and with me doing the illustrations, we decided on creating a unique and a completely handmade 2015 Calendar with the theme "WILDERNESS" for you. We also pulled in a very talented woodworker, Rodger Mayeda to create beautiful handmade stands that will be featured as an add on product if you decide on purchasing one of the calendars.You can choose from 4 options which we have created featuring a smaller and a larger calendar. If you would like to do a purchase of this calendar, please click on the links listed below.
I hope you enjoyed reading through this tutorial . If you have any suggestions, queries or anything that you would like to ask, feel free to ask me through the comments below. Have a nice day and a wonderful holiday season.